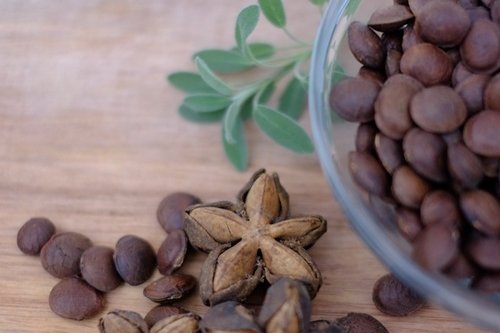 Sacha Inchi (Plukenetia volubilis Linneo) 
Highest natural source of omega-3 and essential fatty acids (EFA's)
Sacha Inchi is a semi-woody climbing plant native to the Peruvian tropics. It grows in the natural Sacha Inchi rainforests at altitudes between 200 and 1500m. Its seeds have a unique fatty acid composition, with a large amount of unsaturated fatty acids (about 85% of polyunsaturated); with approximately 34% of linoleic acid (omega-6) and 51% of linolenic acid (omega-3).
Known as the Inca Peanut, this Superfood is one of the richest natural sources of essential fatty acids in the world. Sacha Inchi offers a perfect balance of omega-3 and omega-6 unsaturated fatty acids, which are necessary for well-being and proven to improve health. These essential fatty acids (EFA's) offer important nutritional and health benefits, such as protection against cardiovascular disease. They also protect against rheumatoid arthritis, cancer and possibly severe viral infections.
The resultant flour from the oil extraction is rich in proteins, with an average of 40% of the seed. The flours are rich in cysteine, tyrosine, threonine and tryptophan.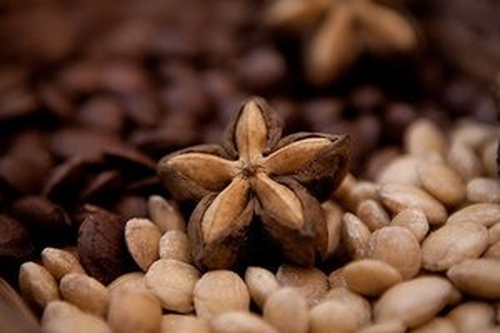 The Peruvian Peanut strengthens the heart, protects the brain, improves vision, and is ideal to lose weight
➢High nutritional value. Contains high amounts of omega 3, 6 and 9, protein, Vitamin A and E (alpha-tocopherol vitamin E, the most beneficial form of vitamin E).
➢Nice taste similar to peanut.
➢Low in fat and calories. Easy digestibility.
➢Gluten free: ideal for celiac diets.
➢The omega-3 found in sacha inchi seeds strengthens the entire cardiovascular system. Nutrition Journal reported that men reduced their risk of heart disease by increasing their intake of omega-3ʹs.
➢Rich in antioxidant properties and helps in the reduction of inflammation in all parts of the body.
➢Protective properties against some types of cancer.
➢Concentration of high quality protein, essential for the body growth and tissue maintenance there of as muscles, skin, hair, nails, organs and blood.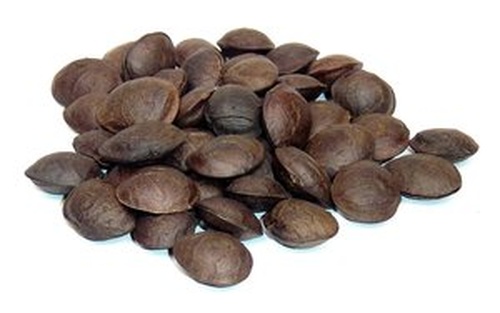 ➢Essential fatty acids (EFAs) protect the central nervous system.
➢Increased levels of omega 3 EFAs also reduce age-related macular degeneration and improve vision.
➢Improves circulation and blood pressure.
➢Lowers bad cholesterol (LDL) and improves good cholesterol(HDL).
➢Omega 3 controls healthy blood sugar levels, reducing the risk of Type II Diabetes.
➢Its Vitamin E content maintains healthy skin and hair, and helps against hair loss.
➢Can be used as a weight loss aid; Sacha Inchi seeds are high in tryptophan, an amino acid that increases the production of happy hormone serotonin which can suppress appetite.
Organic Inca Peanut Powder and Oil
The Inca Peanut is available for bulk orders, in gelatinized powder form (content 100% Inca Peanut powder), and in oil form. The Inca Peanut oil contains almost 50% of omega-3.