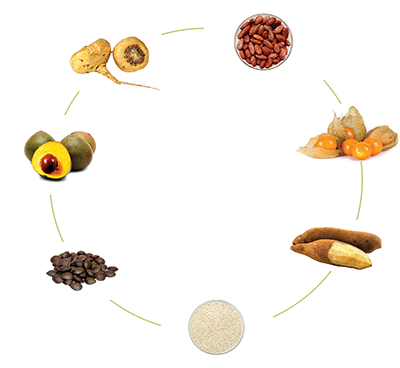 We source only the highest quality Superfoods from Peru, organic, natural and nutrient-rich, to maximise the health benefits to you. Among our functional foods we supply Maca, Inca Peanut (Sacha Inchi), Goldenberry, Cacao and Yacon, to name a few. 
We believe that healthy products should also taste great. With this mindset, we also created healthy snacks, based on our star ingredient, Maca, a powerful natural energizer, that improves physical and mental conditions. 
Maca, the powerhouse of the plant world, is exclusively cultivated high up in the Peruvian Andes between 4,000 and 4,500 meters. 
We promote health by providing the highest quality natural organic products. All production activities are in compliance with international quality standards, such as Good Manufacture Practices -GMP- and the Hazard Analysis and Critical Control Points –HACCP.
Additionally, the products have Organic and Kosher Certifications in Peru.



Superfoods from the Andes and the Peruvian Rainforest
Originally from Peru, only at the height and climate conditions of the Peruvian Andes, and at the tropical climate conditions of the Peruvian Rainforest, our products acquire their numerous properties, nutrients, amino acids and vitamins. 

We supply our invigorating mirabio Maca Snacks, as well as natural Superfoods for bulk orders, such as Maca powder, Inca Peanut, Golden Berry, Yacon syrup, Cacao nibs, Lucuma powder, Camu Camu powder, Quinoa, etc. In that case, we can offer a customized bulk solution for your brand. We can either deliver the product with your own branding or without any label. We love flexibility and are pleased to fulfil your vision and ideas.
Sustainability
We are a socially and environmental responsible company, working with known raw material sources. In order to meet the requirements of our clients, the production activities of our products take place within the framework of a select group of local Peruvian farmers and other companies; where each one contributes with the best of their expertise, generating a synergistic benefit on entire value chain and guaranteeing the best quality.
A wide range of organic natural food supplements are also available on request.